Posters & Photos
Posters
In response to an interest in shipwreck images expressed by Michigan maritime enthusiasts as well as fellow divers, we have made available a couple of printed posters, shown here.
PRICES
Poster in shipping tube—$16.95
Framed:
Driftwood (shown)—$75.00
Black Enamel (classic gallery style)—$60.00
Photos
Many images in this website are available in a high-quality limited edition (100 total of all sizes sold) inkjet photo print; signed, matted and numbered. Imagine how nice these framed photographs will look hung above the loveseat in your living room, or in the hallway for all who enter your home to enjoy.
Please email concerning the image you're interested in (give shipwreck name—frames are numbered from top to bottom, i.e. Vienna 6) to confirm availability and obtain shipping cost.
Images may also be purchased in digital form—contact with your requirements to get a quote.
PRICES
10" x 13" image in 16" x 20" white mat (or nearest standard size that fits image)—$45.00
Framed:
Driftwood—$90.00
Black Enamel—$80.00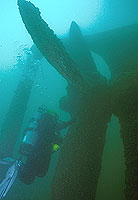 Regina propeller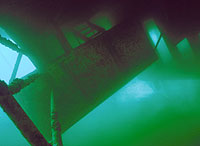 Cedarville
Story and photos ©2005 J.R. Underhill Communications
Home | Shipwreck Maps | Great Lakes Scuba Diving | Searches | MUPC site | Posters & Photos | Contact Us | Links